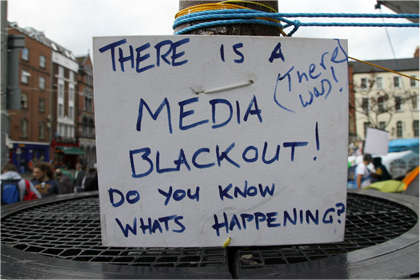 MEDIA BLACKOUT:
Obama Campaign Official Admitted Democrats Sucked the "Entire Social Network in the U.S.,"
Kept the Data, Still Use It
Carol Davidson
The U.S. Federal Trade Commission is investigating whether Cambridge Analytica's use of the personal data from 50 million Facebook users violated a consent decree the tech company signed with the company in 2011 before the 2016 election.
The Obama Campaign and Hillary Campaign also used Facebook and social media data to target voters in 2012 and 2016.
Carol Davidson, a former Barack Obama campaign official, admitted that the 2012 campaign led Facebook to "suck out the whole social graph" and target potential voters. They would then use that data to do things like appending their email lists.
Now, this…
Carol Davidsen also admitted in a speech that Democrats sucked out "the entire social network of the US", kept the data and still have it.

Via Wikileaks:
Wikileaks tweeted:
Carol Davidson was not the only Obama official to brag about the campaign's use of social media data.
Obama Campaign Manager Jim Messina touted the 2012 campaign's use of "targeted sharing" on Facebook to use supporters as a way to persuade their undecided friends and family to support Obama.
Messina bragged about the use of Facebook data by the Obama campaign in a speech in 2013.
One of the penalties for refusing to participate in politics is that you end up being governed by your inferiors. -- Plato (429-347 BC)
TRY THE FRIENDS OF LIBERTY
AD FREE
"FIGHTING FOR FREEDOM AND LIBERTY"
and is protected speech pursuant to the "unalienable rights" of all men, and the First (and Second) Amendment to the Constitution of the United States of America,

In God we trust
Stand Up To Government Corruption and Hypocrisy
NEVER FORGET THE SACRIFICES
BY OUR VETERANS
Note:

We at The Friends Of Liberty cannot make any warranties about the completeness, reliability, and accuracy of this information.
Don't forget to follow the Friends Of Liberty on Facebook and our Page also Pinterest, Twitter, Tumblr and Google Plus PLEASE help spread the word by sharing our articles on your favorite social networks.
The Friends Of Liberty
is a non-partisan, non-profit organization with the mission to Educate, protect and defend individual freedoms and individual rights.
Support the Trump Presidency and help us fight Liberal Media Bias. Please LIKE and SHARE this story on Facebook or Twitter.
TOGETHER WE WILL MAKE AMERICA GREAT AGAIN
!
Join The Resistance and Share This Article Now!
TOGETHER WE WILL MAKE AMERICA GREAT AGAIN!
Help us spread the word about Friends Of Liberty Blog we're reaching millions help us reach millions more.
Please SHARE this now!

The Crooked Liberal Media will hide and distort the TRUTH.

It's up to us, Trump social media warriors, to get the truth out. If we don't, no one will!
Share this story on Facebook and let us know because we want to hear YOUR voice!
‼️️ ♻️

PLEASE SHARE

♻️ ‼️️