I wonder what she thought As she stood there, strong and tall.
She couldn't turn away, She was forced to watch it all.
Did she long to offer comfort As her country bled?
With her arm forever frozen High above her head.
She could not shield her eyes She could not hide her face
She just stared across the water Keeping Freedom's place.
The smell of smoke and terror Somehow reduced her size
So small within the harbor But still we recognized...
How dignified and beautiful On a day so many died
I wonder what she thought, And I know she must have cried.
WIKILEAKS Exposes WHO ORDERED HILLARY To LEAVE BEHIND The 4 MEN In BENGHAZI! THIS IS TREASON!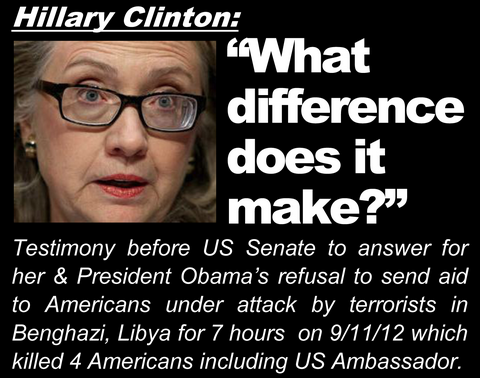 Wikileaks just dropped the BOMB!
This email proves that the Saudi's were the ones that ordered Hilary to leave the men behind to die in Benghazi.
Just in case you have been living under a rock for the last few years, not only did Hillary 'lose' $1,5000,000,000 that was sent to Libya, she also got 4 servicemen killed after she abandoned them like a box of stillborn puppies. Among these were a US Ambassador, the first ambassador to die in over 3 decades, not to mention the thousands of Libyans who died in the subsequent power vacuum.
As soon as the men were dead and the position abandoned, the Saudi Royal Family 'donated' millions to the Clinton Foundation. Libya fell into chaos and become and ISIS stronghold, but that's ok Hillary made millions!
It's been said that 'when someone shows you who they are, believe them'. This is exactly what we are dealing with in Hillary Clinton, a stop at nothing, soul sold, narcissist that will stop at nothing to dominate and defile good people. She abandons her allies for a payday ..
The people who carried out 9/11 (Saudi Royal Family, see 28 redacted pages of the 9/11 commission report) are the people who grab about funding 25% of Hillary's campaign.
Now, you judge! WHO ORDERED HILLARY To LEAVE BEHIND The 4 MEN In BENGHAZI?
Mother of Benghazi victim addresses Republican convention: 'Hillary for prison. She deserves to be in stripes'
IT IS TIME THAT "WE THE PEOPLE" PUT THE CONTENT OF ONES CHARACTER OVER AND ABOVE ANYTHING ELSE IN THE USE OF OF OUR MOST VALUABLE ASSET, OUR VOTE!
TRY FRIENDS OF LIBERTY ADD FREE
FRIENDS OF LIBERTY
"FIGHTING FOR FREEDOM AND LIBERTY"
NEVER FORGET THE SACRIFICES
BY OUR VETERANS
Note:
We at Friends of Liberty cannot make any warranties about the completeness, reliability and accuracy of this information.
Friends of Liberty
is a non-partisan, non-profit organization with the mission to
Educate,
protect and defend individual freedoms and individual rights.
Support the Trump Presidency and help us fight Liberal Media Bias. Please LIKE and SHARE this story on Facebook or Twitter.
TOGETHER WE WILL MAKE AMERICA GREAT AGAIN
!
Join The Resistance and Share This Article Now!
‼️️ ♻️

PLEASE SHARE

♻️ ‼️️
Share this story on Facebook and let us know because we want to hear YOUR voice!