Needing troops, Army offers up to $90K bonuses to re-enlist

FORT BRAGG, N.C. (AP) — Struggling to expand its ranks, the Army will triple the amount of bonuses it's paying this year to more than $380 million, including new incentives to woo reluctant soldiers to re-enlist, officials told The Associated Press.

Some soldiers could get $90,000 up front by committing to another four or more years, as the Army seeks to reverse some of the downsizing that occurred under the Obama administration after years of growth spurred by the Iraq and Afghanistan wars.
The enlistment campaign was driven by Congress' decision late last year to beef up the size of the Army, echoing the spirit if not quite the extent of President Donald Trump's campaign promises to significantly increase military staffing and firepower.

Last fall, Trump unveiled a plan that would enlarge the Army to 540,000 soldiers. Army leaders back the general idea, but say more men and women must be accompanied by funding for the equipment, training and support for them.

Under the current plan, the active duty Army will grow by 16,000 soldiers, taking it to 476,000 in total by October. The National Guard and the Army Reserve will see a smaller expansion.

To meet the mandate, the Army must find 6,000 new soldiers, convince 9,000 current soldiers to stay on and add 1,000 officers.

"We've got a ways to go," Gen. Robert Abrams, head of U.S. Army Forces Command, said in an interview at his office in Fort Bragg, N.C. "I'm not going to kid you. It's been difficult because a lot of these kids had plans and their families had plans."

In just the last two weeks, the Army has paid out more than $26 million in bonuses.

The biggest hurdle, according to senior Army leaders, is convincing thousands of enlistees who are only months away from leaving the service to sign up for several more years. Many have been planning their exits and have turned down multiple entreaties to stay.

"The top line message is that the Army is hiring," said Maj. Gen. Jason Evans, who recently became the service's head of Human Resources Command.

Evans said the Army was expanding "responsibly with a focus on quality," insisting there will be no relaxation of standards.

It is a clear reference to last decade, when the Army eased recruitment rules to meet combat demands in Iraq and Afghanistan. At their peak, more than 160,000 U.S. troops were in Iraq and about 100,000 were in Afghanistan. To achieve those force levels, the Army gave more people waivers to enlist, including those with criminal or drug use records.
The Army vows it won't do that again, focusing instead on getting soldiers to re-enlist. Money is the key.

The Army's $550 billion base budget, approved by Congress last month, will provide money for the financial incentives. The latest round of increased bonuses, which became effective less than two weeks ago, are good for at least the next month.

Cyber posts, cryptologists or other intelligence or high tech jobs with certain language skills are particularly rewarded. They can get between $50,000 and $90,000 by agreeing to serve another three to five years. Army special forces can also qualify for top level incentives. But more routine jobs — such as some lower level infantry posts — may get nothing, or just a couple of thousand dollars.

The new bonuses have triggered a spike in re-enlistments, said Mst. Sgt. Mark Thompson, who works with Army retention policies, saying there have been more than 2,200 since May 24.

The Army is about three-quarters of the way to its goal for re-enlistments. But meeting the ultimate target is difficult because the remaining pool of soldiers is comprised of people who "have said no for a long time," Thompson said.

Normally, he said, about a third of eligible soldiers re-enlist each year. This year, the goal requires nearly three-quarters signing on for more years.

In some cases, the personal touch can help.

Across Fort Bragg from Abrams' office, deep in the woods, soldiers from an 82nd Airborne Division unit are conducting a live fire exercise. While evaluating the troops, Col. Greg Beaudoin, commander of 3rd Brigade, also is doing his part to meet the re-enlistment objective.

"I don't think he knows what he wants to do yet in life," Beaudoin said of a soldier on his staff that he urged to re-enlist. "So I told him, 'Here is an opportunity. Just extend for a year until you figure it out. The army is offering you an opportunity. Take your time to figure out what you want to do.'"

Beaudoin said he thinks up to a fifth of his soldiers may stay on, crediting the bonuses for making the choice more attractive.

But the clock is ticking.

"Time is our biggest challenge," Evans said.
Warthog attack plane finds new life in Trump administration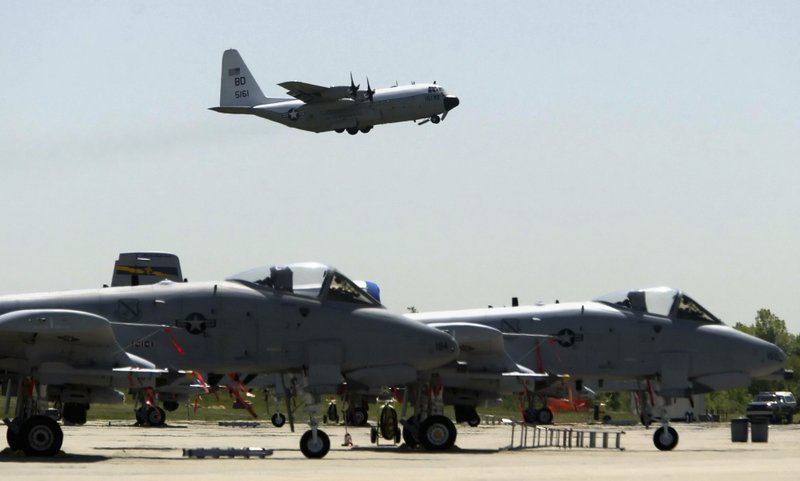 The Warthog is sitting pretty.

Once on the brink of forced retirement, the A-10 attack plane with the ungainly shape and odd nickname has been given new life, spared by Air Force leaders who have reversed the Obama administration's view of the plane as an unaffordable extra in what had been a time of tight budgets.

In the 2018 Pentagon budget plan sent to Congress this week, the Air Force proposed to keep all 283 A-10s flying for the foreseeable future.

Three years ago, the Pentagon proposed scrapping the fleet for what it estimated would be $3.5 billion in savings over five years. Congress said no.
The following year, the military tried again but said the retirement would not be final until 2019. Congress again said no.

Last year, officials backed away a bit further, indicating retirement was still the best option but that it could be put off until 2022.

Now the retirement push is over, and the Warthog's future appears secure.

"The world has changed," said Maj. Gen. James F. Martin Jr., the Air Force budget deputy, in explaining decisions to keep aircraft once deemed expendable.

The Air Force has similarly dropped plans to retire the iconic U-2 spy plane amid prospects for bigger budgets under President Donald Trump. It also reflects the relentless pace of operations for combat aircraft and surveillance and reconnaissance planes that feed intelligence data to war commanders.

The service had complained for years that its inventory of aircraft was getting dangerously small and old. Gen. Mark Welsh, who retired as the top Air Force officer last year, was fond of describing the service as having 12 fleets of aircraft that qualify for antique license plates in the state of Virginia.

The A-10 is a special case. Rep. Martha McSally, a Republican from Arizona who flew the A-10 in combat and commanded a squadron in Afghanistan, speaks of it with obvious affection.

"The A-10 is this badass airplane with a big gun on it," she said she told Trump in a recent conversation, explaining why the Warthog is unlike any other attack aircraft.

The "big gun" to which she refers is a seven-barrel Gatling gun that is nine feet long and fires 30mm armor-piercing shells at a rate of 3,900 rounds per minute. Also armed with Maverick missiles, the A-10 is effective not only in a conventional battle against tanks and other armored vehicles. It also provides close-air support for Iraqi and other U.S. partner forces taking on Islamic State fighters in the deserts of Iraq and Syria.
A number of A-10s fly missions in Syria from Incirlik air base in Turkey.
McSally is among members of Congress for whom elimination of the Warthog carried political risks back home. Sen. John McCain, a fellow Arizona Republican, joined her in strenuously arguing against the plane's early retirement.
Arizona's Davis-Monthan Air Force Base is home to an A-10 unit; retirement of the aircraft might have made Davis-Monthan more vulnerable to closure.
A veteran of combat in Iraq, Syria, Afghanistan, and beyond, the plane entered service in 1976. It is among Cold War-era icons like the venerable B-52 bomber that have exceeded expected lifespans and are likely to remain central to U.S. air campaigns for years to come.
Specially designed for the Cold War mission of attacking armor on the front lines of a potential European war with the Soviet Union, the A-10′s air crews considered it so ugly they called it the Warthog. Its official nickname is Thunderbolt II. The plane has been out of production since 1984 but has received many upgrades over the years, most recently with new electronics.
"FIGHTING FOR FREEDOM AND LIBERTY"
NEVER FORGET THE SACRIFICES
BY OUR VETERANS
Note:
We at Friends of Liberty cannot make any warranties about the completeness, reliability and accuracy of this information.
Friends of Liberty
is a non-partisan, non-profit organization with the mission to
Educate,
protect and defend individual freedoms and individual rights.
Support the Trump Presidency and help us fight Liberal Media Bias. Please LIKE and SHARE this story on Facebook or Twitter.
TOGETHER WE WILL MAKE AMERICA GREAT AGAIN
!
Join The Resistance and Share This Article Now!
‼️️ ♻️

PLEASE SHARE

♻️ ‼️️