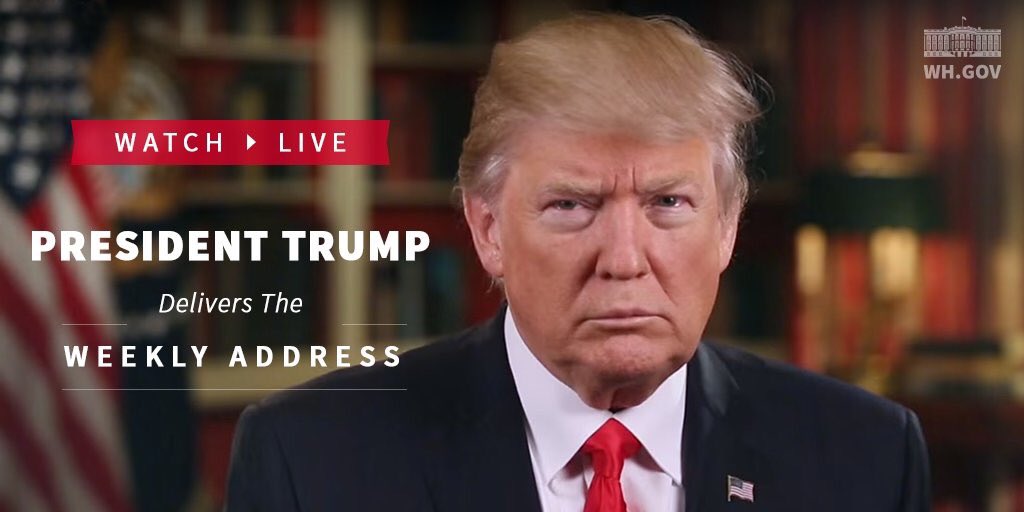 President Trumps Weekly Address: At 11:00 AM,And Trump Tweets...
️
PLEASE SHARE
️
🔔
TRUMP TWEETS
🔔
~ JUN 11th – JUN 17TH
-------------------------------------------------------------------
The #FakeNews MSM doesn't report the great economic news since Election Day. #DOW up 16%. #NASDAQ up 19.5%. Drilling & energy sector...

♦
Clicking the link above provides information: From the Newsroom (Click Latest News to see What's Happening OR Click to Watch Videos), From the Press Office (Click to see Speeches & Remarks, Weekly Press Briefings (Gaggles), Statements & Releases, Presidential Actions (Executive Orders, Proclamations), Legislation, Nominations & Appointments, Disclosures), From the Administration (Learn more about President Trump, First Lady Melania, Vice President Pence and Karen Pence & Trump's Cabinet), Special Events, Taking an Active Role within Our Government, Support Groups, Job Opportunities, How Our Government Runs… Various Branches of Government
TRY FRIENDS OF LIBERTY ADD FREE
FRIENDS OF LIBERTY
"FIGHTING FOR FREEDOM AND LIBERTY"
NEVER FORGET THE SACRIFICES
BY OUR VETERANS
Note:
We at Friends of Liberty cannot make any warranties about the completeness, reliability and accuracy of this information.
Friends of Liberty
is a non-partisan, non-profit organization with the mission to
Educate,
protect and defend individual freedoms and individual rights.
Support the Trump Presidency and help us fight Liberal Media Bias. Please LIKE and SHARE this story on Facebook or Twitter.
TOGETHER WE WILL MAKE AMERICA GREAT AGAIN
!
Join The Resistance and Share This Article Now!
‼️️ ♻️

PLEASE SHARE

♻️ ‼️️