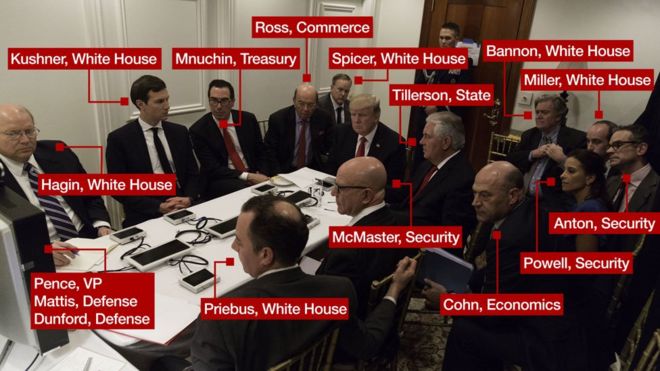 Back row from left: Deputy chief of staff Joe Hagin, senior adviser Jared Kushner, Treasury Secretary Steven Mnuchin, Commerce Secretary Wilbur Ross, Sean Spicer, President Trump, Secretary of State Rex Tillerson, chief strategist Steve Bannon, senior adviser Stephen Miller, national security official Michael Anton. Front from left: Chief of staff Reince Priebus, national security adviser HR McMaster, chief economic adviser Gary Cohn, deputy national security adviser Dina Powell
On Friday morning Sean Spicer tweeted a photograph of Donald Trump and some of his advisers receiving a top secret briefing in Florida on the results of the US missile strike against a Syrian government airfield.

If a picture is worth a thousand words, what does this one tell us?
Keeping in mind that the image presented is the one the White House wants to convey, the photograph still invites a number of observations and, perhaps, conclusions.

Here are five of them. Continue Reading:>>>>>>Here
Note:
We at Friends of Liberty cannot make any warranties about the completeness, reliability and accuracy of this information.
Friends of Liberty
is a non-partisan, non-profit organization with the mission to protect and defend individual freedoms and individual rights.
Support the Trump Presidency and help us fight Liberal Media Bias. Please LIKE and SHARE this story on Facebook or Twitter.
TOGETHER WE WILL MAKE AMERICA GREAT AGAIN
!
Join The Resistance and Share This Article Now!
‼️️
♻️ PLEASE SHARE
♻️
‼️️