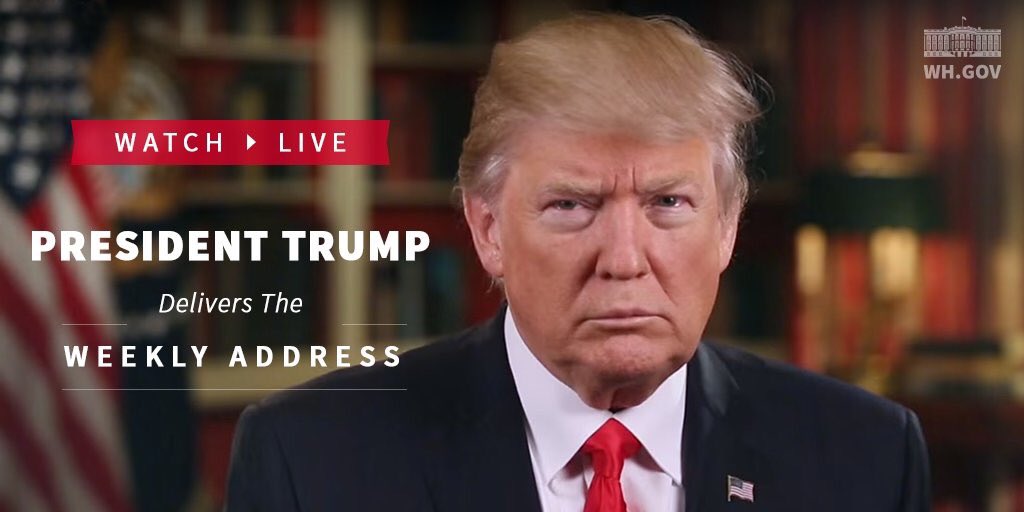 TRUMP TWEETS ~ MAR 5 - 7th
🔔 TRUMP TWEETS 🔔 ~ MAR 5 – 7TH
-------------------------------------------------------------------

Is it true the DNC would not allow the FBI access to check server or other equipment after learning it was hacked? Can that be possible?

3:32 AM - 5 Mar 2017

💥

Who was it that secretly said to Russian President, "Tell Vladimir that after the election I'll have more flexibility?" @foxandfriends

3:40 AM - 5 Mar 2017

💥

Thank you for the great rallies all across the country. Tremendous support. Make America Great Again!

9:30 AM - 5 Mar 2017

💥

'President Trump Congratulates Exxon Mobil for Job-Creating Investment Program'

1:19 PM - 6 Mar 2017

💥

45,000 construction & manufacturing jobs in the U.S. Gulf Coast region. $20 billion investment. We are already winning again, America!

1:22 PM - 6 Mar 2017

💥

There is an incredible spirit of optimism sweeping the country right now—we're bringing back the JOBS!

3:49 PM - 6 Mar 2017

CLICK LINK ➡️ http://twitter.com/realDonaldTrump/status/838899465390018560

💥

Buy American & hire American are the principles at the core of my agenda, which is: JOBS, JOBS, JOBS! Thank you @exxonmobil.

7:49 PM - 6 Mar 2017

💥

Thank you to @exxonmobil for your $20 billion investment that is creating more than 45,000 manufacturing & construction jobs in the USA!

7:50 PM - 6 Mar 2017

💥

122 vicious prisoners, released by the Obama Administration from Gitmo, have returned to the battlefield. Just another terrible decision!

4:04 AM - 7 Mar 2017

💥

Our wonderful new Healthcare Bill is now out for review and negotiation. ObamaCare is a complete and total disaster - is imploding fast!

4:13 AM - 7 Mar 2017

💥

For eight years Russia "ran over" President Obama, got stronger and stronger, picked-off Crimea and added missiles. Weak! @foxandfriends

5:13 AM - 7 Mar 2017

💥

Don't worry, getting rid of state lines, which will promote competition, will be in phase 2 & 3 of healthcare rollout. @foxandfriends

5:41 AM - 7 Mar 2017

💥

I am working on a new system where there will be competition in the Drug Industry. Pricing for the American people will come way down!

5:46 AM - 7 Mar 2017

💥

Don't let the FAKE NEWS tell you that there is big infighting in the Trump Admin. We are getting along great, and getting major things done!

6:14 AM - 7 Mar 2017

💥

I feel sure that my friend @RandPaul will come along with the new and great health care program because he knows Obamacare is a disaster!

4:14 PM - 7 Mar 2017

💥

I have tremendous respect for women and the many roles they serve that are vital to the fabric of our society and our economy.

3:12 AM - 8 Mar 2017

💥

On International Women's Day, join me in honoring the critical role of women here in America & around the world.

3:13 AM - 8 Mar 2017

💥

LinkedIn Workforce Report: January and February were the strongest consecutive months for hiring since August and September 2015

4:11 AM - 8 Mar 2017

💥

Met with @RepCummings today at the @WhiteHouse. Great discussion!

3:50 PM - 8 Mar 2017

💥

Great news. We are only just beginning. Together, we are going to #MAGA!

3:54 PM - 8 Mar 2017

CLICK LINK ➡️ http://www.instagram.com/p/BRZROKmg-st/

💥

Donald J. Trump Retweeted


Fox Nation‏@foxnation

.@realDonaldTrump's First Full Month in Office Sees Biggest Jobs Gain 'In Years': Report:

5:16 PM - 8 Mar 2017

CLICK LINK ➡️ http://nation.foxnews.com/2017/03/08/trumps-first-full-month-office-sees-biggest-jobs-gain-years-report

💥

Despite what you hear in the press, health care is coming along great. We are talking to many groups and it will end in a beautiful picture!

9:01 AM - 9 Mar 2017

CLICK LINK ➡️ http://twitter.com/realDonaldTrump/status/838899465390018560


💥

'U.S. Consumer Comfort Just Reached Its Highest Level in a Decade'

2:36 PM - 9 Mar 2017

CLICK LINK ➡️ http://www.bloomberg.com/amp/news/articles/2017-03-09/u-s-consumer-comfort-reaches-decade-high-on-economic-optimism

💥

Honored to meet this years @SenateYouth delegates w/ @VP Pence in the East Room of the @WhiteHouse. Congratulations! http://www.USSenateYouth.org

3:11 PM - 9 Mar 2017

CLICK LINK ➡️ http://twitter.com/realDonaldTrump/status/839976956703748096

💥

Donald J. Trump Retweeted


FOX & friends‏@foxandfriends

"Never give up....that's the worst thing you could do. There's always a chance." -Kyle Coddington's message to those also fighting cancer

5:29 AM - 10 Mar 2017

CLICK LINK ➡️ http://twitter.com/foxandfriends/status/840192780433465344

💥

DRUDGE REPORT‏ @DRUDGE_REPORT

GREAT AGAIN: +235,000

5:41 AM - 10 Mar 2017

CLICK LINK ➡️ http://www.bloomberg.com/news/articles/2017-03-10/u-s-jobs-wages-show-solid-gains-in-trump-s-first-full-month

💥

Weekly Address - 11:00 A.M. at the @WhiteHouse! #MAGA us

7:40 AM - 10 Mar 2017

CLICK LINK ➡️ http://www.facebook.com/WhiteHouse/videos/1244889762265421/

💥

We are making great progress with healthcare. ObamaCare is imploding and will only get worse. Republicans coming together to get job done!

6:39 AM - 11 Mar 2017

💥

AmericaFirstPolicies‏@AmericaFirstPol

.@POTUS Trump led a historic journey to the White House. 50 days in, that historic journey continues. Take a look 👉🏻

11:24 AM - 11 Mar 2017

CLICK LINK ➡️ http://www.facebook.com/pg/POTUS/photos/?tab=album&album_id=1278192468916857

💥


-------------------------------------------------------------------

Press Briefing (Gaggle) with Press Secretary Sean Spicer 3/6/2017

CLICK LINK ➡️ http://www.youtube.com/watch?v=m8onAD-j18s

💥

Press Briefing with Press Secretary Sean Spicer 3/7/2017

CLICK LINK ➡️ http://www.youtube.com/watch?v=B5vmBlEcTUY

💥

Press Briefing with Press Secretary Sean Spicer 3/8/17

CLICK LINK ➡️ http://www.youtube.com/watch?v=R0NZAdcTi0c

💥

Press Briefing with Press Secretary Sean Spicer 3/9/17

CLICK LINK ➡️ http://www.youtube.com/watch?v=uwa-kqZIDQ4

💥

Background Press Briefing by Senior Administration Officials on the Upcoming Visit of Chancellor Merkel of Germany 3/10/17

CLICK LINK ➡️ http://www.whitehouse.gov/the-press-office/2017/03/10/background-press-briefing-senior-administration-officials-upcoming-visit

💥

Press Briefing by Press Secretary Sean Spicer, 3/10/2017

CLICK LINK ➡️ http://www.youtube.com/watch?v=_f02M47kpcg

💥
-------------------------------------------------------------------

DON'T BE MISINFORMED BY LIBERAL TV NEWS & INTERNET PROPAGANDA


💥


FOR THE LATEST DAILY OR WEEKLY INFORMATION …



Click Link ➡️ http://www.whitehouse.gov/ THEN Click Blue Letters of Subject you want to learn more about


💥
Clicking the link above provides information:
From the Newsroom (Click Latest News to see What's Happening OR Click to Watch Videos), From the Press Office (Click to see Speeches & Remarks, Weekly Press Briefings (Gaggles), Statements & Releases, Presidential Actions (Executive Orders, Proclamations), Legislation, Nominations & Appointments, Disclosures), From the Administration (Learn more about President Trump, First Lady Melania, Vice President Pence and Karen Pence & Trump's Cabinet), Special Events, Taking an Active Role within Our Government, Support Groups, Job Opportunities, How Our Government Runs… Various Branches of Government
Note:
We at Friends of Liberty cannot make any warranties about the completeness, reliability and accuracy of this information.
Friends of Liberty
is a non-partisan, non-profit organization with the mission to protect and defend individual freedoms and individual rights.
Support the Trump Presidency and help us fight Liberal Media Bias. Please LIKE and SHARE this story on Facebook or Twitter.
TOGETHER WE WILL MAKE AMERICA GREAT AGAIN
!
Join The Resistance and Share This Article Now!
‼️️
♻️ PLEASE SHARE
♻️
‼️️