Donald Trump's son says he wants to keep options open and would be interested in running if he could do so 'as service to my country'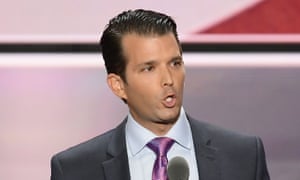 Donald Trump Jr: I'd 'love' to run for New York mayor against De Blasio
Donald Trump Jr has expressed interest in running for mayor of New York. Photograph: Rex/Shutterstock Trump Jr was appearing on CNN's State of the Union as a surrogate for his father, the Republican nominee for president.

"I never like to rule anything out," he said, in response to a question about whether he would run against De Blasio, a leading progressive voice and ally of Hillary Clinton, whom he served as campaign manager when she was elected to the US Senate in New York in 2000.

"We always like to keep our options open, so if I could do that as a service to my country, I would love to do that."

De Blasio succeeded the independent billionaire Mike Bloomberg as New York mayor in 2013, defeating the Republican Joe Lhota in a landslide to become the first Democrat elected since 1989. The next election is due in 2017. De Blasio is expected to be challenged within his own party.
Discussing the 2016 presidential election, Trump Jr responded to a claim on the same CNN show by Clinton's campaign manager, Robby Mook, that Russian hackers were responsible for leaking Democratic national committee emails via Wikileaks, in an attempt to boost the Trump campaign.

Democrats were liars and part of a "disgusting rigged system", Trump Jr said, adding: "They should be ashamed of themselves. If we did that, if the [Republican national committee] did that, if my father did that, they'd have people calling for the electric chair.

"It just goes to show you their exact moral compass. They'll say anything to win this."

Trump Jr was one of four of Trump's five children to speak in praise of their father at the Republican national convention this week, spawning questions about whether any will seek office following the presidential election.

"Well, you know, listen, I had a good time up there," Trump Jr told CNN. "I'm really frustrated with what's going on in this country. If [running for office] is how I can pay back and give something back … but right now I'm more concerned with getting my father in there."

Source :>>>>>>>Here
Note:
We at Friends of Liberty cannot make any warranties about the completeness, reliability and accuracy of this information.
Friends of Liberty
is a non-partisan, non-profit organization with the mission to protect and defend individual freedoms and individual rights.
Support the Trump Presidency and help us fight Liberal Media Bias. Please LIKE and SHARE this story on Facebook or Twitter.
TOGETHER WE WILL MAKE AMERICA GREAT AGAIN
!
Join The Resistance and Share This Article Now!
‼️️
♻️ PLEASE SHARE
♻️
‼️️