The 'Secret' Submarines the U.S. Navy Doesn't Want to Talk About (And Russia Fears)

Sometime apparently in August 2013, the U.S. Navy's nuclear-powered attack submarine USS Seawolf eased out of the port of Bremerton, in Washington State, on what was probably her fifth or sixth deployment since commissioning in 1997.

A month later the U.S. Sixth Fleet, in charge of ships in European waters, posted a series of photos to the Website Flickr depicting the U.S. ambassador to Norway, Barry White, touring the 350-foot-long Seawolf pierside at Haakonsvern naval base … in southern Norway. Thousands of miles from Washington State.
How Seawolf got to Norway—and what she might have done en route—offer a rare and tantalizing glimpse into some of the most secretive quarters of the most poorly understood aspects of American naval power.

For it seems Seawolf traveled to Norway along a path rarely taken by any vessel — underneath the Arctic ice.

Silent Service:

The Navy doesn't like to talk about its submarines. After all, a sub's biggest advantage is its stealth. And of the sailing branch's roughly 70 undersea boats, Seawolf and her two sister vessels Connecticut and Jimmy Carter are among the most secretive.

Google the names of any of the Navy's Los Angeles-class submarines, the most numerous in the fleet, and you'll get hits: Navy statements and photo releases, the occasional news article. But try to look up Seawolf-class vessels and you'll get next to nothing.
Her official Website is blocked. The last time Seawolf's exterior appeared in a Navy photo was 2009.

That's because Seawolf and her sisters are special. Newer, bigger, faster and more heavily armed than standard attack submarines, the nearly $3-billion-per-copy Seawolfs have been fitted with hundreds of millions of dollars in unique equipment and are assigned to their own special squadron in Washington State.

They deploy for months at a time often without any public notice. The wife of a Seawolf sailor described the boat as "unpredictable."

A steady drumbeat of Navy citations is mute testimony to secret combat missions performed with apparent success. In 2007 Seawolf's 140-man crew earned a Meritorious Unit Commendation—roughly equivalent to a Bronze Star earned in combat—and in 2009 followed that up with a Navy Unit Commendation, equal to a Silver Star.

We know what the submarine force as a whole does for a living: gather intelligence, launch cruise missiles at terrorists and rogue states, send commandos ashore for recon and raids. But we don't know which of these missions to attribute to Seawolf.

Nor can we say for sure exactly where Seawolf plies her shadowy trade. She's normally assigned to the Pacific Fleet, but even that can change in a pinch.

Puzzle Pieces:

Here's what we do know. In March 2011 Seawolf's sister ship Connecticut was tapped for the rare honor of operating under the Arctic ice for tests.

Connecticut and the brand-new Virginia-class sub New Hampshire sailed north of Prudhoe Bay, Alaska, for one of the Navy's infrequent "ICEX" exercises, begun after the submarine USS Nautilus, in 1958, became the first undersea boat to reach the North Pole.

Connecticut "worked with the U.S. Navy Arctic Submarine Laboratory and the University of Washington Applied Physics Laboratory to test new equipment and train for under-ice operations in an arctic environment," the Navy announced.

The new equipment included "high-frequency sonar for safe Arctic operations and the Raytheon Deep Siren acoustic communications system," the sailing branch added.

We know that Seawolf spent almost three years in drydock starting in September 2009. Contractors did $280 million in work. And when Seawolf returned to the cold Pacific waters in April 2012, she was "even more capable and effective than at any time in her 15 years of service," according to Cdr. Dan Packer, her skipper at the time.

It's possible Seawolf received the same under-ice gear Connecticut tested in 2011. The Arctic is, after all, a new area of concern for the Navy. With the ice receding, new shipping lanes are opening up and foreign navies are getting more active.

"We have some very fundamental interests — security interests — in the Arctic region," Adm. Gary Roughead, then the Navy's top officer, said in 2009.

Chilly Reception:

In any event, it's apparent that Seawolf has crossed over the top of the world for her current deployment. Practically speaking, there's no other way the vessel could have arrived in Norway mere weeks after departing her homeport in Washington State.
So what was Seawolf doing under the ice? Most likely simply training … for fighting under ice. For a submarine crew, going to the Arctic "gives us the opportunity to test our combat systems, our navigation systems, our communication systems and just what it's like to operate in this very challenging environment," Roughead said four years ago.

And there are good reasons besides a tradition of secrecy to do so quietly. Consider Moscow's reaction to the 2009 ICEX. "Any action by foreign submarines in the vicinity of Russia's maritime borders naturally demand heightened scrutiny on our part," a Kremlin spokesperson warned.
The Russians want to know what America's subs are doing, too.

This first appeared in WarIsBoring here.
UPDATE ON THIS STORY BELOW
THIS COULD BE A FAKE NEWS STORY FROM FACEBOOK - THAN AGAIN YOUR GOVERNMENT ISN'T TELL YOU EVERYTHING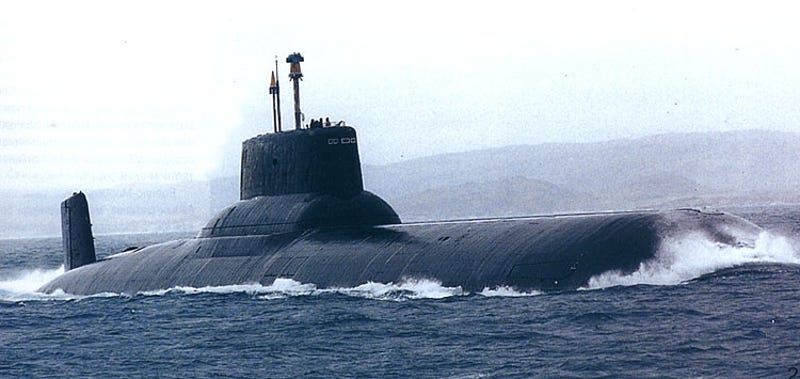 Do you guys remember I said a nuclear sub went missing in 2013? Think red October!
A nuclear missile was 100% fired at Hawaii yesterday, the deep state wanted to start a war with North Korea and make it " appear " as if NK launched a attack on America. According to what I read the sub was detected on January 12 as a abnormal disturbance in the waters off the coast Hawaii about 1,200 miles. It's reported the Cabal launched the missile and was intercepted and the sub was destroyed.
The reason a nuclear missile has to go through the space atmosphere is very simple, they can't risk it hitting a plane as this would cause a pre detonation and explode over the country launching the missile. Most people of the world have no clue what is going on right now and pretty much are clueless. There is a real war going on between our real govt. and Oscumbas shadow govt. he is a radical Islamist with only one mission, destroy America so his people can take over the world. Islam is truly a split religion of hate and roughly about 80% hate humanity, the other 20% are being killed at a rapid rate. He has corrupted 90% of the Democratic Party and has radicalized the left to the point of no return.
Let me be perfectly clear on this, it takes 5 people to send a emergency broadcast of a incoming attack and all 5 must push there buttons to send the alert, it is impossible for one person to hit the button by mistake, that is a fact.
Get ready patriots things are going to get wild Oscumba is getting desperate and will stop at nothing to destroy our country...be prepare to fight!
Shared from Bobby Cipriani :
Posted by
Roxanne Bobbio
One of the penalties for refusing to participate in politics is that you end up being governed by your inferiors. -- Plato (429-347 BC)
TRY THE FRIENDS OF LIBERTY
AD FREE
"FIGHTING FOR FREEDOM AND LIBERTY"
and is protected speech pursuant to the "unalienable rights" of all men, and the First (and Second) Amendment to the Constitution of the United States of America.

In God we trust.
Stand Up To Government Corruption and Hypocrisy
NEVER FORGET THE SACRIFICES
BY OUR VETERANS
Note:

We at The Friends Of Liberty cannot make any warranties about the completeness, reliability and accuracy of this information.
Don't forget to follow the Friends Of Liberty on Facebook and our Page also Pinterest , Twitter , Tumblr and Google Plus PLEASE help spread the word by sharing our articles on your favorite social networks.
The Friends Of Liberty
is a non-partisan, non-profit organization with the mission to
Educate,
protect and defend individual freedoms and individual rights.
Support the Trump Presidency and help us fight Liberal Media Bias. Please LIKE and SHARE this story on Facebook or Twitter.
TOGETHER WE WILL MAKE AMERICA GREAT AGAIN
!
Join The Resistance and Share This Article Now!
TOGETHER WE WILL MAKE AMERICA GREAT AGAIN!
Help us spread the word about Friends Of Liberty Blog we're reaching millions help us reach millions more.
‼️️ ♻️

PLEASE SHARE

♻️ ‼️️
Please SHARE this now!

The Crooked Liberal Media will hide and distort the TRUTH.

It's up to us, Trump social media warriors, to get the truth out. If we don't, no one will!
Share this story on Facebook and let us know because we want to hear YOUR voice!