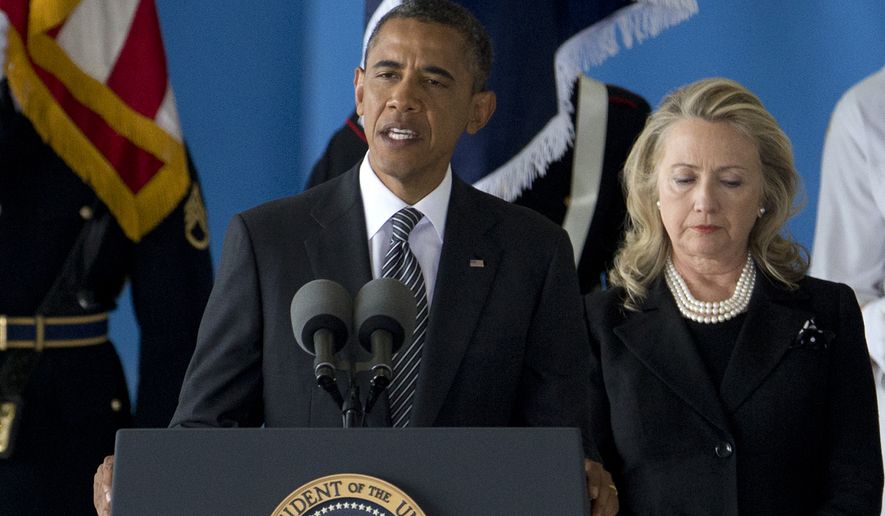 President Obama, accompanied by Secretary of State Hillary Rodham Clinton, speaks Sept. 14, 2012, during a ceremony at Andrews Air Force Base, Md., marking the return to the United States of the remains of the four Americans killed earlier in the week in Benghazi, Libya.
The scandal of Benghazi is one that has plagued the Obama administration repeatedly — the effort to deflect attention from failed American foreign policy and the rise of terrorism — through a conscious spin effort that hid the truth from the American public.
In the end, it worked. President Barack Obama was re-elected and Hillary Clinton is now leading in the polls to become his successor.
But before you cast your vote in November, you should read the House Benghazi report released Tuesday — to at least recognize how self-interested politicians have become.
The Obama administration knew attacks on the consulate were because of terrorism, but they knowingly changed the narrative to blame an "inflammatory" viral video — to escape any culpability of the attacks so close to a November election. In the 2012 campaign, Mr. Obama repeatedly spoke of not only killing Osama bin Laden, but how Al Qaeda had been "decimated" under his watch. Any word Benghazi was actually a terrorist attack would undermine this narrative.
In her first public comment on the attack on Sept. 11, 2012, Mrs. Clinton's first public statement released at 10:08 p.m. blamed the attack on a viral video.
"I condemn in the strongest terms the attack on our mission in Benghazi today," said Mrs. Clinton, then secretary of state. "Some have sought to justify this vicious behavior as a response to inflammatory material posted on the Internet."
SOURCE:>>>>>>>Here
Also might Like:
HILLARY LIED AND LIED AGAIN...OBAMA SWEARS ITS THE TRUTH...
Hillary should be in jail...LOCK HER UP
Why Isn't Barack Hussein Obama's in Jail?
TRY FRIENDS OF LIBERTY ADD FREE
FRIENDS OF LIBERTY
"FIGHTING FOR FREEDOM AND LIBERTY"
Stand Up To Government Corruption and Hypocrisy
NEVER FORGET THE SACRIFICES
BY OUR VETERANS
Note:
We at Friends of Liberty cannot make any warranties about the completeness, reliability and accuracy of this information.
Friends of Liberty
is a non-partisan, non-profit organization with the mission to
Educate,
protect and defend individual freedoms and individual rights.
Support the Trump Presidency and help us fight Liberal Media Bias. Please LIKE and SHARE this story on Facebook or Twitter.
TOGETHER WE WILL MAKE AMERICA GREAT AGAIN
!
Join The Resistance and Share This Article Now!
‼️️ ♻️

PLEASE SHARE

♻️ ‼️️