POETICALLY SPEAKING CONSERVATIVELY:
"Behold The Voter Insurgency!!!"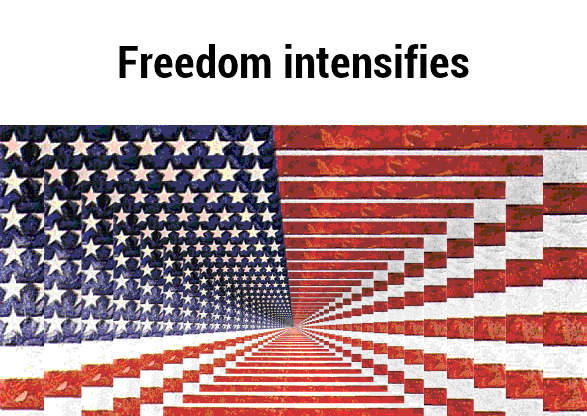 The Pledge of Allegiance to the Flag: "I pledge allegiance to the Flag of the United States of America, and to the Republic for which it stands, one Nation under God, indivisible, with liberty and justice for all.", I pledge my allegiance to the Constitution of the United States of America, and to the Republic for which it stands one nation under God indivisible, with liberty and justice for all, Amen !
by Joe Esposito
POETICALLY SPEAKING CONSERVATIVELY
POETICALLY SPEAKING CONSERVATIVELY
"Behold The Voter Insurgency!!!"
So you say you're stressed out by this presidential campaign?? You want it to end for it's causing your life severe strain?? Are you a Trump supporter and have family and friends who keep telling you that he's unfit? Do what I and millions of others do remind them that Hillary is a contemptible piece of human trash worse than rancid shit. In a few long days the election will finally be over but the mental damage may not. To many of Trump's enemies this will certainly be for he is on the verge of winning. To think that at one time he was a very long shot.
The pundits, the media, the Elites will all be scratching their heads next Wednesday morning wondering what happened to Hillary. Well the people rebelled proving that it was a true insurgency. What an historic moment we are having in the making. Millions agree with Trump.

THE SWAMP NEEDS DRAINING.

It's becoming more apparent that the DON is going to get his victory. Need proof. Listen to the

TYRANT

spew his venom against Trump. Such negativity. It is the likes of Dastardly Hillary we so want to purge. Again need proof?? Look at this Donald Trump surge.
Things have never looked better for our hero. In the last few weeks this has been a brand new ballgame. Paulie Ryan and Ted Cruz endorse the

DON

even though they never mention his name. Meanwhile the FBI is compiling much evidence against Hillary. Before long her fat ass will be sliced. The agents hate her. She is referred to as the

ANTICHRIST.

By the end of next January we can all breathe a sigh of much needed relief. At long last we will be having a much more stronger Commander In Chief. Finally we will have ended an eight year reign of

TYRANNY

. And the

DON

will finally appoint a Special Prosecutor to take care of the likes of Hillary.
There will be joy across the land as we celebrate a new beginning. It will be the

ERA OF THE DON

in our beloved America. We will have been rid of the

TYRANT

and Hillary and their disgusting Left Wing agenda. No doubt there will be a hand wringing by all of the high profile pundits, the chattering class they we all truly despise. The

DON

will have got the last laugh. He was the true agent of change and this was something they could never in a million years realize.
We, the American people, will speak with a strong voice next Tuesday. We will speak with much clarity. It is Donald J Trump that we turn to not Dastardly Hillary. She is the 'Poster Pig for the corruption that has ensconced all of Washington DC. It will be the end of those who line their pockets and have escaped accountability.

BEHOLD THE INDICTMENTS THAT WILL BE FORTHCOMING.

It will under a Trump Presidency. A breath of fresh air will go through our Government. The stench of corruption will finally be dissipating. It's been a long time in coming.

IT IS THAT SWAMP THAT THE DON WILL BE DRAINING.
Friends Of Liberty

is a non-partisan, non-profit organization with the mission to protect and defend individual freedoms and individual rights.